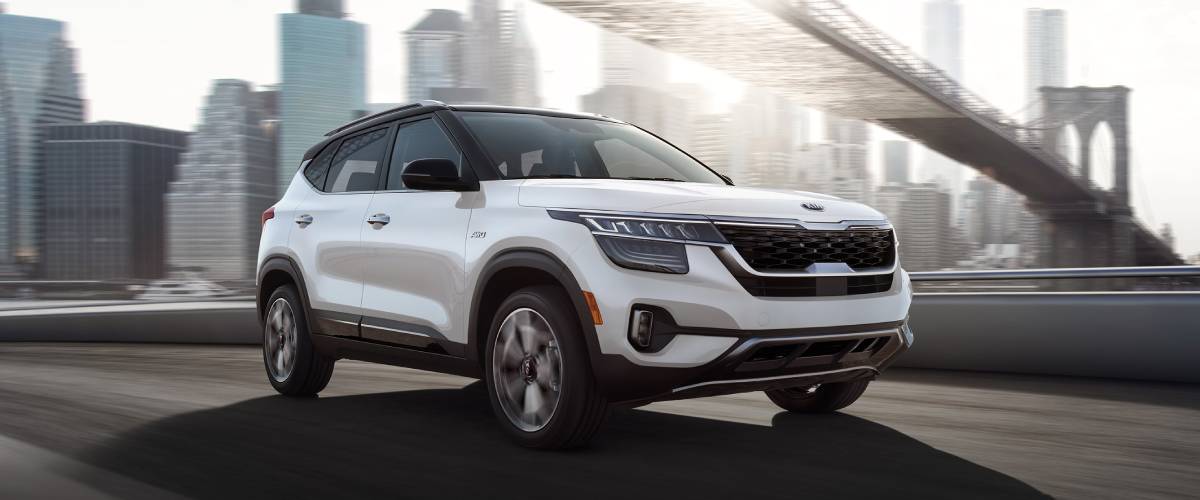 All-New Kia Seltos
For Sale in Lansdale, PA
Check Out the New Kia Seltos
With a spacious interior, variety of engines, and technology-packed cabin, the Kia Seltos is a leader in midsize SUVs, and it's an all-new SUV as well. The new Seltos comes with two different engines, including a turbocharged model, and there are a few different trims to choose from. Each trim has a few options, but none is as good as the Seltos SX package. Bergey's KIA has new Seltos models for sell right now in Lansdale with outstanding customer support for you. Continue reading to learn more below.
What's New with Kia Seltos
Kia wanted to design an SUV that could compete with compact and midsize SUVs in Philadelphia. The Kia Seltos is one of the brand's best innovations yet when it comes to sport utility size and performance. While the base edition has almost everything you need for technology, you don't have to pay much extra to opt for more features with the Seltos EX or SX trims. We discuss all of the options below.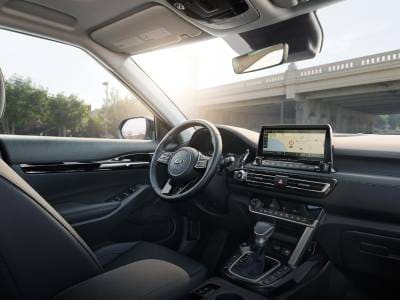 Kia Seltos Interior
Inside the Kia Seltos, drivers first notice that there is more space for passengers and cargo than in other competitors. The materials throughout the cabin have been updated from other SUVs in the Kia lineup, competing on the same level as their Telluride SUV.
Kia Seltos Exterior
The Seltos is sleek on the outside with a sporty grille, headlamps, and gof lamps. As a four-door with a spacious backseat, the Seltos comes in a variety of different colors with options for 18-inch alloy wheels and chrome accents. While the Seltos was meant to be a smaller SUV, it still seats up to five people and offers plenty of room for cargo in the back.
Kia Seltos Safety
All of the latest Kia models come with extensive safety features, but the Seltos is an all-new model from the automaker, which means they have placed a lot of the driver assistance features in the base edition. Drivers love that you can access a rearview camera, parking assist, lane departure warnings, and pedestrian warnings with the base Seltos models.
Premium models also have automated emergency braking, pedestrian detection, blind-spot monitoring, rear cross-traffic alerts, lane keep assist, and much more.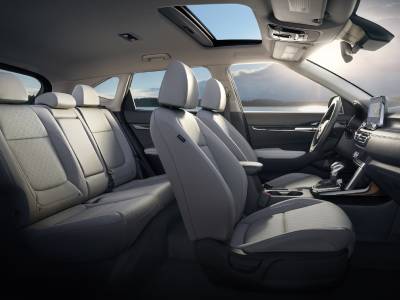 Kia Seltos Technology
The touch-screen display is a standard feature in the Seltos, but it's the optional 10.3-inch display that comes with the SX that drivers love. The infotainment system also comes with Android Auto, Apple CarPlay, GPS navigation, HD radio, multiple USB ports, and a six-speaker audio system. However, if you love sound, then it's worth it to upgrade to the eight-speaker Bose system. This package also includes fractal-textured speaker grilles.
You can easily connect to the infotainment system to control everything while keeping your hands on the wheel and eyes on the road. If you need to set up a call, just speak the command to instantly go to your morning call on the drive in or set up a meeting on Skype. It's easy with the latest voice controls through Apple CarPlay or Android Auto.
Kia Seltos Performance
There are two different engines available with the Seltos. The first is a 2.0-liter four-cylinder that delivers 146 horsepower. The second is a turbo 1.6-liter that produces 175 horsepower. While the base engine is matched to a continuously variable automatic transmission, the turbocharged models get the most acceleration on the road, and all-wheel drive is also optional.
The Seltos also features smooth handling and quick response from steering, making it easy to take turns or head down winding down paths in Conshohocken, PA and Quakertown, PA. It's far smoother than many of the competitors in the same class.
Kia Seltos Trims
Kia released four different trims with the new Seltos SUV. These include:
Kia Seltos LX
Kia Seltos S
Kia Seltos EX
Kia Seltos SX
Are you ready to go for a test drive with the all-new Kia Seltos? Whether you're in Allentown or Warrington, PA, We have all of the latest models available at Bergey's KIA centrally located in Lansdale. Contact our team for directions and stop by to check out our new inventory and finance center while you're here.